It's no secret that the property market here in Australia is one of the largest and most visible industries in the country. With signs up in every suburb, and agents always out and about, there are a vast number of opportunities to promote your property management or real estate firm. Here we give you an overview of some of the most popular branded products in the real estate industry.
Promotional Compendiums are used by almost every single agent in the industry.
A simple, effective tool for keeping important documents together as well as offering a unique marketing opportunity, these Compendiums are exceptionally popular and are usually one of the first promotional items a real estate business will invest in.
With a wide range of branded compendiums available, we can supply high end brand name items such as the Cutter & Buck A4 Zippered Compendium right through to the event focused A4 Presentation Folder range, suiting every budget and need.
Branded Polo Shirts for real estate agents are an extremely popular option, especially in the warmer months. While long sleeved shirts and full suits are still widely evident throughout the winter, we are seeing more and more that the comfort, convenience and professional design of modern promotional polo shirts is being favoured.
However, there are some things to look out for! Namely the material your polo is made from. While most polos are very comfortable (and are chosen for that benefit), the Stormtech range is a cut above in terms of fit and finish. We usually recommend the Stormtech Cotton Polo Shirt thanks to it's professional design, not to mention the 5 Year Warranty that provides peace of mind.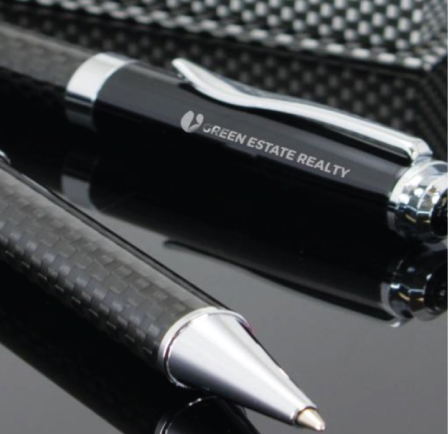 What can be said about branded Pens that hasn't already been said? Arguably the single most popular category in all of the merchandise industry, pens are a budget-friendly, effective, widely used and desirable product. For real estate in particular, the significance of a contract-signing pen can be significant if used as a gift as the client remembers that moment, and their experience with you, forever.
We typically recommend a quality option from our Premium Pen range, such as the Parker IM Ballpoint Pen if you are looking for a gift item. For office and everyday use, a solid choice would be a classic such as the Adelaide Plastic Pen.
Obviously there are a wide range of products that suit the Real Estate market, so we encourage you to reach out whether your enquiry is for anything from Notepads to Fridge Magnets or business cards. We here at PromoPAL are experts, and will be able to help you deliver your brand message!